Crown of Aleppo: The Mystery of the Oldest Hebrew Bible Codex
Book Description
Publication Date: April 1, 2010
The history and dramatic rescue of the oldest Hebrew Bible in book form. In Crown of Aleppo, Hayim Tawil and Bernard Schneider tell the incredible story of the survival, against all odds, of the Aleppo Codex - one of the most authoritative and accurate traditional Masoretic texts of the Bible.
Completed circa 939 in Tiberias, the Crown was created by exacting Tiberian scribes who copied the entire Bible into book form, adding annotations, vowel and cantillation marks, and precise commentary. Praised by Torah scholars for centuries after its writing, the Crown passed through history until the 15th century when it was housed in the Great Synagogue of Aleppo, Syria. When the synagogue was burned in the 1947 pogrom, the codex was thought to be destroyed, lost forever.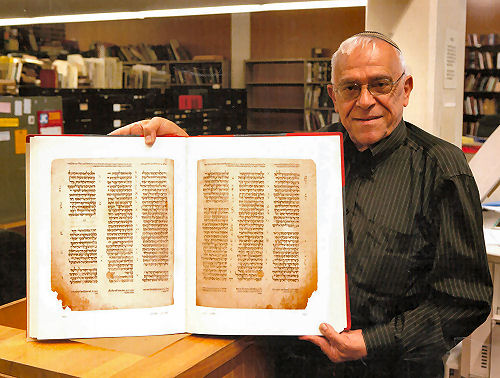 Tawil with the faxcimili of The crown of Aleppo
That is where its great mystery begins. Miraculously, a significant portion of the Crown of Aleppo survived the fire and was smuggled from the synagogue ruins to an unknown location—presumably within the Aleppan Jewish community. Ten years later, the surviving pages of the codex were secretly brought to Israel and finally moved to their current location in the Israel Museum in Jerusalem.
This wonderfully rich book contains more than 50 rare photographs and maps, some in full color, including those of the Aleppo Codex, the Great Synagogue of Aleppo, and of the people who played a part in its rescue.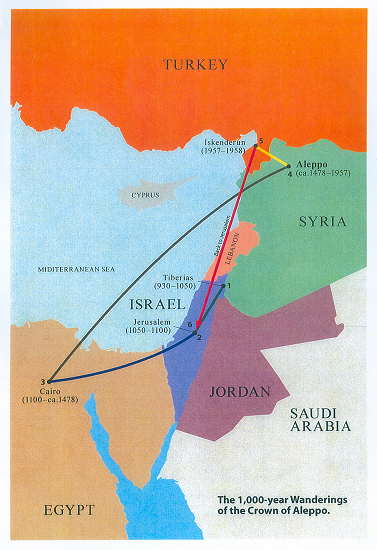 Read the recent review of this book from Publishers Weekly:
Crown of Aleppo: The Mystery of the Oldest Hebrew Bible Codex
Hayim Tawil and Bernard Schneider. Jewish Publication Society, $45 (220p) ISBN 978-0-8276-0895-5

In this fascinating and comprehensive investigation into the Aleppo Codex, scholars Tawil and Schneider vividly recreate the history of this rare and eminently significant text and track its tragic course through time. Through their analysis of its authorship in the 10th century; insights into its association with medieval and modern biblical luminaries; pointed questions regarding its partial destruction; and rare photographs, the authors convey both the spiritual and material significance of what many call simply the Crown. As the most authoritative rendering of the Torah, the Crown's maintenance and survival was vital, yet its transfer from place to place over the centuries has almost always been shrouded in mystery. During its 500-year stay in Aleppo, Syria, under the superstitious and watchful eye of the Jewish community there, only a handful of religious scholars were permitted to view the sacred codex—reflecting an unfortunate circumstance, since pogroms in the 1940s destroyed substantial portions of the text. This highly readable and intriguing account will captivate readers both familiar and unfamiliar with the history of the Crown. (July)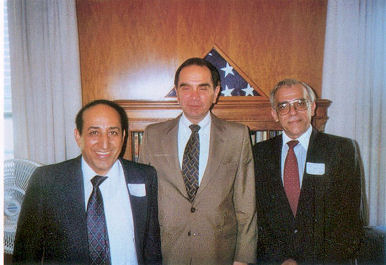 Assistant Secretary of Near Eastern and South Affairs Edward p. Djerejian with Tawil and Halevy, Department of State Washington DC 1992.