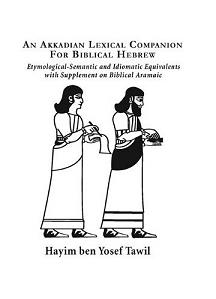 Akkadian Lexicon Companion for Biblical Hebrew Etymological, Semantic and Idiomatic Equivalence
Book Description
Publication Date: November 30, 2009
The Companion does not confine its interest solely to etymological equivalents with Akkadian but also embraces semantic and idiomatic relationships. It helps uncover meanings for Hebrew words that have eluded clear definition in particular contexts, but which have either Akkadian cognates or vocable euivalents employed in a similar context. It proposes nuances for Hebrew words suggested by similar Akkadian usages. It illuminates idioms from related expressions in Akkadian. It corrects certain understandings of Hebrew words and expressions in light of their Akkadian equivalents. It shows that the large resource of Akkadian literature, though geographically and temporally somewhat remote and linguistically somewhat different from Hebrew, can, offer a large number of insights for the task of understanding and interpreting Biblical Hebrew.
Hayim Tawil's Latest Book Sheds New Light on Biblical Hebrew by Way of Akkadian Language (oct 2009)
A new lexicon by Dr. Hayim Tawil, associate professor in Hebrew languages and literature at Yeshiva College (YC), is expected to lead to a more precise and accurate understanding of the Bible and its language.

An Akkadian Lexical Companion for Biblical Hebrew is the "greatest contribution to biblical study published in the past 100 years," said Dr. Richard White, a lecturer of Semitic languages at YC. "Professor Tawil's lexicon allows certain expressions in Tanach to be elucidated by their parallels in Akkadian literature," Professor White explained. "[It] provides a connection between the text of the Bible and the world in which the Bible grew up."
Tawil said that the lexicon, due out in November from Ktav Publishing, is the first to provide a comparison and study of word relationships between Biblical Hebrew, Akkadian and Aramaic, and will establish "a more precise and accurate meaning of words and idioms," he said. More nuanced meanings are possible in Akkadian, which has a vocabulary of 50,000 words compared to biblical Hebrew's 8,000, he explained, "so imagine what light Akkadian can shed on biblical Hebrew?"
A prolific writer, Tawil has a second book coming out in early 2010 with co-author Bernard Schneider. And while there are scholarly elements to Crown of Aleppo: The Mystery of the Oldest Hebrew Bible Codex, it reads like a thriller. The book considers the volatile history of the Codex or "Crown" of Aleppo, a bible manuscript written in about 930 C.E. and considered by scholars to be the most authentic version now in existence.
Preserved by Jewish communities in Jerusalem, Tiberias and Cairo, the Crown found a home in the 15th century in the Great Synagogue of Aleppo, Syria where it was housed for almost five centuries. When riots broke out in Syria in 1947, it was thought destroyed but a significant part of it resurfaced in 1958 and was smuggled with the help of then President Yitzchak Ben-Zvi to Israel, where it is housed at the Israel Museum under the custodianship of the Ben-Zvi Institute.
About a third of the Crown is still missing, although portions of it continue to be rediscovered (most recently, last year when a fragment turned up in the wallet of a survivor of the Aleppo riots).
Tawil said he and Schneider wrote the book in the hopes of stirring interest in finding the missing pages. Scholars say it may well help. "Their book is an important contribution towards bringing the story of the Aleppo Codex to the attention of a wide audience," said Michael Glatzer, academic secretary at the Ben-Zvi Institute. "Finding the missing pages is an effort that deserves the greatest attention."
In addition to the two upcoming books, Tawil has written two novels, countless scholarly articles and in 1998, Operation Esther: Opening the Door for the Last Jews of Yemen, the story of a five-year effort he spearheaded to bring the remaining 1,200 Yemenite Jews trapped in Yemen to Israel. For these efforts, the professor was nominated for an Eleanor Roosevelt Award for Human Rights in 2002.
Tawil, who has been teaching at YU since 1988, was chosen by students as Professor of the Year in 2003 and 2005.
The professor is working on a thematic commentary on Shir haShirim [the Song of Songs] and completing work on a novel about the founding of the Jewish community of Savannah, GA. Asked how he manages to juggle his research and writing with teaching a full schedule of classes, Tawil laughed and said, "I work at night. I get very little sleep."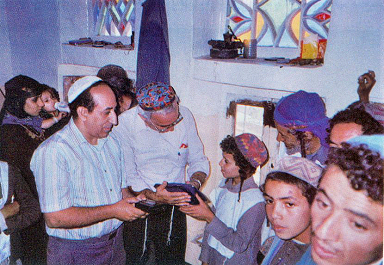 Joseph Halevy and Prof. Hayim Tawil, distributing for the first time after 30 years, religious objects to the Jewish children in Raidah, 1989.